New Lodge Cast Iron Dutch Oven Pot Pre Seasoned 5 Quart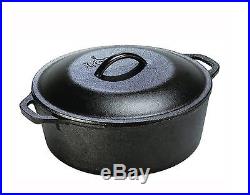 Lodge Logic Dutch Oven with Loop Handles. The American-based company Lodge has been fine-tuning its construction of rugged, cast-iron cookware for more than a century. No other metal is as long-lasting and works as well for spreading and retaining heat evenly during cooking. Lodge's line of cookware comes factory pre-seasoned with the company's vegetable oil formula, and is ready to use right out of the box.
At 10-1/4 inches in diameter and 4 inches deep, this 5-quart Dutch oven holds a heap of chili, chicken and rice, or fruit cobbler. This model is not the campfire style, with legs, wire handle, and a lid for coals. This one is flat-bottomed to sit on a stovetop burner or in the oven, with a domed lid that sends moisture back into the pot. Loop handles aid in carrying with oven mitts. While the Dutch oven comes pre-seasoned to prevent food from sticking, it works best when sprayed or lightly coated with vegetable oil before use. After the meal is done, simply scrub the cast iron with a stiff brush and hot water, no soap, and dry immediately. 5-quart Dutch oven with cast-iron lid ideal for slow-cooking foods. Rugged cast-iron construction heats slowly and evenly.
Pre-seasoned with vegetable oil formula and ready for immediate use. Self-basting domed lid preserves moisture; loop handles aid in carrying. Works with induction stove tops.
Brutally tough for decades of cooking. Easy to clean: hand wash, dry, rub with cooking oil.
The right tool for searing, sauteing, simmering, braising, baking, roasting, and frying. Cast-Iron is a form of cookware developed over a millennia ago remains as popular today as when it was used to prepare meals hundreds of years ago.
Cast Iron is one of only two metals compatible with induction stovetops. Unparalleled in heat retention and even heating. Can Be Used With A Variety of Heat Sources. At home in the oven, on the stove, on the grill or over the campfire. Skillet may be used on various heat sources including gas, electric, induction and ceramic-glass top stoves and ovens.
When using on glass stove tops, be careful not to slide the cookware around as it's possible to scratch the surface. Seasoned cast iron can also be used on the grill or outdoor fire and coals for camp cooking. Begin heating cookware on low and slowly bring heat up to medium or medium/high. Always remove cookware from the stovetop after cooking. Seasoned for a natural, easy-release finish that improves with use.
Seasoning is a necessary step in using cast iron cookware. Oil is baked into the pores of the iron at the foundry to prevent rusting and to eventually provide a natural, non-stick cooking surface. Unlike synthetically coated cookware, it is possible to restore the cooking surface of cast iron. Lodge uses a proprietary soy-based vegetable oil to season our cookware. The oil contains no animal fat or peanut oil. The seasoning is functional application and slight inconsistencies may appear in the seasoning finish. The inconsistencies will not affect cooking performance. Hand wash, dry, rub with cooking oil. It is very important to replenish the seasoning of your cast iron cookware by applying a thin layer of oil after each cleaning. Seasoning is an on-going process.
The more you use cast iron, the seasoning is improved. Using Your Lodge Cast Iron. Rinse with hot water (do not use soap), and dry thoroughly. Before cooking, apply vegetable oil to the cooking surface of your pan and pre-heat the pan slowly (always start on low heat, increasing the temperature slowly). Once the utensil is properly pre-heated, you are ready to cook.
TIP: Avoid cooking very cold food in the pan, as this can promote sticking. PLEASE REMEMBER: Handles will become very hot in the oven, and on the stovetop. Always use an oven mitt to prevent burns when removing pans from oven or stovetop. Care and Cleaning of your Lodge Cast Iron. After cooking, clean utensil with a stiff nylon brush and hot water. Using soap is not recommended, and harsh detergents should never be used. Avoid putting a hot utensil into cold water.
Thermal shock can occur causing the metal to warp or crack. If you are having trouble removing stuck-on food, boil some water in your pan for a few minutes to loosen residue, making it easier to remove. Towel dry immediately and apply a light coating of oil to the utensil while it is still warm.
TIP: Do not let your cast iron air dry, as this can promote rust. Store in a cool, dry place. If you have a cover, or lid, for your utensil, place a folded paper towel in between lid and utensil allowing air to circulate. This prevents moisture from collecting inside the utensil, which can cause rust. TIP: The oven is a great place to store your cast iron; just remember to remove it before turning on the oven.
If for some reason your utensil develops a metallic smell or taste, or perhaps rust spots (maybe a well-meaning relative washed your utensil in the dishwasher or with soap thinking they were being helpful), never fear. Simply scour off the rust using a very fine grade of sandpaper or steel wool and refer to our section on re-seasoning. Re-Seasoning your Lodge Cast Iron. While maintaining the seasoning should keep your Cast Iron in good condition, at some point you may need to repeat the seasoning process.
If food sticks to the surface, or you notice a dull, gray color, repeat the seasoning process. Wash the cookware with hot, soapy water and a stiff brush. (It is okay to use soap this time because you are preparing to re-season the cookware). Apply a thin, even coating of MELTED solid vegetable shortening (or cooking oil of your choice) to the cookware (inside and out). Place aluminum foil on the bottom rack of the oven to catch any dripping.
Set oven temperature to 350 - 400 degrees F. Place cookware upside down on the top rack of the oven.
Bake the cookware for at least one hour. After the hour, turn the oven off and let the cookware cool in the oven.
Store the cookware uncovered, in a dry place when cooled. Why should I choose Lodge cookware over other brands? For over 112 years, Lodge has provided quality cast iron cookware and accessories, with a broad and innovative assortment. Our continued commitment to quality enables Lodge to offer a superior product line.
How is the diameter measurement of Lodge Cookware determined? We measure from outside rim to outside rim across the top of the cookware, not the bottom. What type utensils are recommended to be used with Lodge products? We recommend using wood or silicone utensils to avoid scratching.
Why should soap or detergent not be used to clean cast iron cookware? Soap and detergent are used to break down and remove oils. Since the seasoning of your cast iron consists of oil, cleaning with soap will strip or remove the seasoning from cookware.
Are there any types of food that are not recommended to be cooked in cast iron cookware? Foods which are very acidic i. Beans, tomatoes, citrus juices, etc.
Should not be cooked in a cast iron utensil until the cookware is highly seasoned. The high acidity of these foods will strip the seasoning and result in discoloration and metallic tasting food. Wait until cast iron is better seasoned to cook these types of foods. Lodge is a Green Foundry. Lodge is a zero hazardous waste stream foundry.
Lodge designed a vegetable oil recycler for the seasoning process to reduce waste and unusable oil is recycled and used as biodiesel generator. Lodge uses recycled and biodegradable packing materials. Reuse of foundry sand used in the casting process is recycled and unusable sand, working to purify the water of the local streams and planting trees to improve air quality and beautification. This item comes directly from the distributor. Item ships to lower 48 states only.
Physical addresses only, no p. I will send tracking information as soon I receive it from distributor. If you have any questions, please feel free to ask. INFORMATION ABOUT LEAVING AND RECEIVING FEEDBACK. HOLIDAY SEASONS TEND TO SLOW DOWN DELIVERIES SLIGHTLY.
Thank you, we appreciate your business. The item "New Lodge Cast Iron Dutch Oven Pot Pre Seasoned 5 Quart" is in sale since Wednesday, June 02, 2010.
This item is in the category "Home & Garden\Kitchen, Dining & Bar\Cookware". The seller is "ms_bees_bargains" and is located in Various.
This item can be shipped to United States.
Type: Dutch Oven
Brand: Lodge
Material: Cast Iron
Features: Lifetime Warranty
Country/Region of Manufacture: United States