3-PCS Enameled Cast Iron 8.5 Ounce Cast Iron PotMini Pot 5.5''Cast Iron Pot/Lid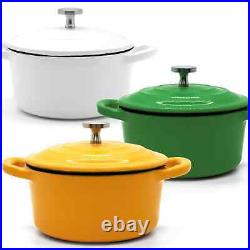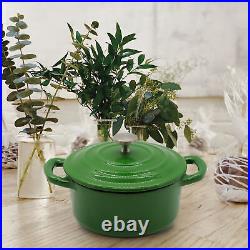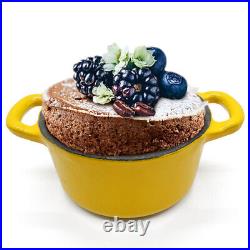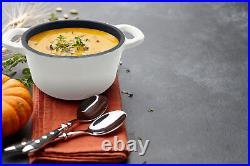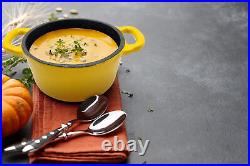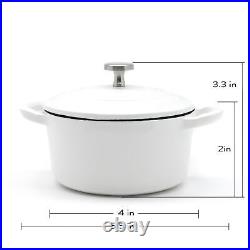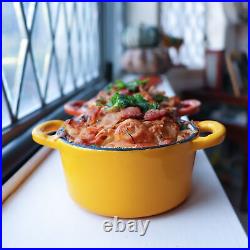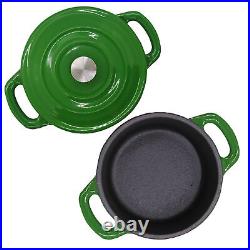 Rj Legend 8.5 Ounce Cast Iron Pot, Enameled Cast Iron Mini Pot, Round Mini Cocotte, 5.5-Inch Cast Iron Pot With Lid, 3-Piece Cast Iron Set - Green - White - Yellow. RJ Legend enameled cast iron minis are a wonderfully exquisite holiday gift.
Expertly chosen, this 3-piece cast iron mini dutch oven set - Green White and Yellow - will bring vibrant colors to your dinner table. For social media food lovers, you simply need to pour your food in or cook your food in this mini pot and it will be photo ready and presentable! This cast iron round mini cocotte set is a treat! One serving per enamel pot, it saves the trouble of reaching across the table to scoop a dish. These 100% enamel cast iron multi-functional round cocottes are generally used to bake single-serving macaroni and cheese, French onion soup, boeuf bourguignon, and cheese-y baked potatoes. This mini iron not only keeps your food hot, but also is a treat for the eyes. Vibrant colors, with 3 layers of enamel coating, are expertly chosen by RJ Legend designer to bring the single serving individual small dishes to be perfectly arranged for your family at the dining table. Oven safe to up to 500 °F and can be used on gas, electric, ceramic and induction cook tops.
Not recommended for microwave ovens. Perfect for single serving goodies like French Onion Soup and cobbler!
This cocotte with extra-heavy lid, made with cast iron, is known to be great for retaining heat and sealing moisture for flavorful results within the pot more than ceramic or any other materials. The 3 layers of enamel coating creates an anti-rust surface and makes the cocotte more non-stick than regular cast irons, making them much more durable and easier to clean! These cocottes have enameled coating, which is not scratch proof, therefore it is recommended to use wooden, silicon, or nylon utensils with this cocotte and although dishwasher safe, it is recommended to hand wash with soapy water.