ALVA Nori Grill Pan 11, Cast Iron Pan with 2 Handles and Deep Grill Ridges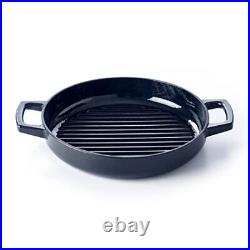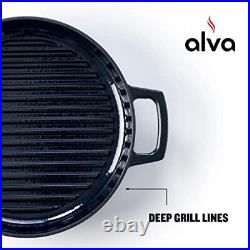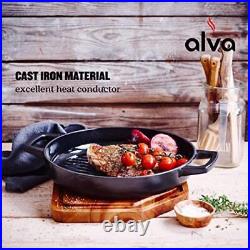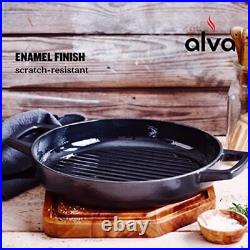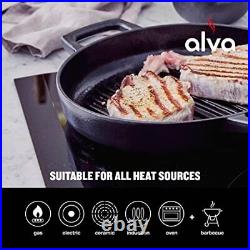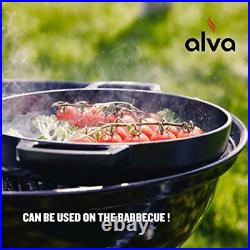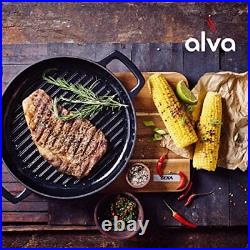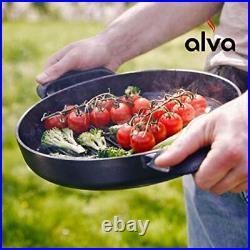 GRILL-TASTIC COOKING: This grill pan is essential in your kitchen, as it can be used to prepare classic dishes like steak, bacon and chicken, but also paninis and naan bread. Stovetop to table, both practical and eye-catching.
CAST IRON: This grill pan is made from cast iron, which even the best chefs recommend. Cast iron is suitable for high temperatures, and is an excellent heat conductor and retainer at the same time, which makes it the perfect material for a grill pan. DEEP RIDGES: The deep grill ridges of this grill pan are excellent for browning and reduce the contact between the food and the fat, which can help contribute to a healthier cooking style. Your food will be left with a beautiful chargrilled pattern.
ENAMEL FINISH: Because the grill is covered with three layers of enamel, the pan can be used immediately, without waiting time. The enamel finish makes the skillet scratch-resistant, while also preventing scratches on your hob and kitchen counter. ALL HEAT SOURCES: This skillet is suitable for all heat sources, including gas, electric, ceramic and oven (up to 480°F). It can also be used as induction cookware or as barbecue grill pan.