Cast Iron Oven, 6.5-Quart, Red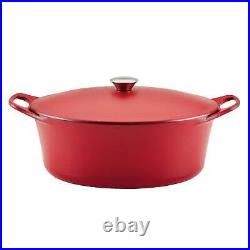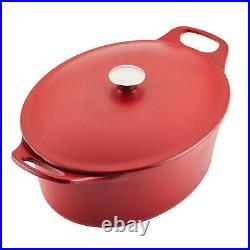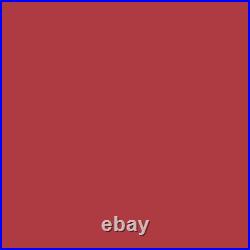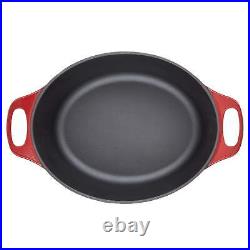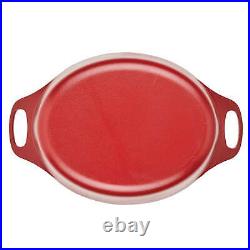 Get incredible cast iron performance that's easy to maintain with this Iron Oven that delivers the classic durability and performance of cast iron without the hassle of complicated cleaning. A next-generation heat treatment seals and smooths surfaces for amazing, easy-to-use, easy-to-clean cast iron that's fortified to resist rust, chipping, and staining.
Wash it, scrub it, crank it up on the stovetop or in the oven! This extra roomy 6.5-quart oven is recipe ready for braising, slow-cooking and amazing stove to oven to table recipes, and the satiny-smooth finish holds brilliant colors to complement any kitchen. Induction capable and made to last a lifetime (and look great for a lifetime, too), this durable meal maker is pre-seasoned and ready to deliver. See why cast iron is one of favorite ways to make meals even more delish. WHAT YOU GET: The new 6.5-quart NITRO Cast Iron Oven. Amazing next-generation cast iron oven is easy to use, easy to clean, and comes with a genius self-basting lid, too. NEXT GEN CAST IRON: A first-of-its-kind heat treatment combines the performance of a pre-seasoned cast iron oven with the gorgeous color of enameled cast iron. EASY TO MAINTAIN: Our technology seals and smooths for a more rust-resistant cast iron surface that's easier to maintain. WASH IT, SCRUB IT, CRANK IT UP: Discover why the heat technology makes for incredibly easy-to-use cast iron and great looking, long lasting performance. STOVE TO OVEN TO TABLE: Induction-suitable cast iron skillet delivers versatility up to 500°F for smart, simple, stylish presentations ULTRA DURABLE: Beautiful, fortified color finish resists scratching, staining, and chipping for cast iron that is built to last (and last).