Griswold Victor #8 Cast Iron Skillet Restored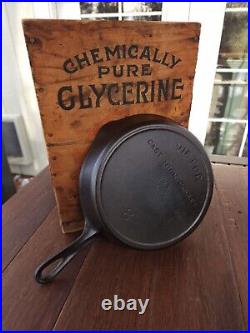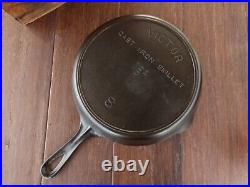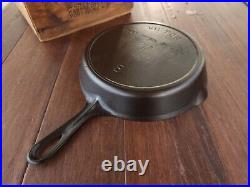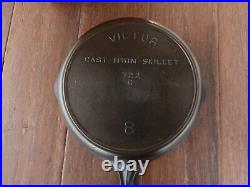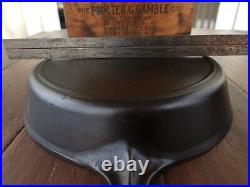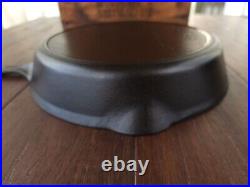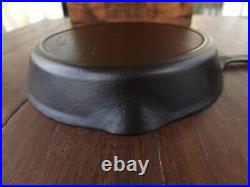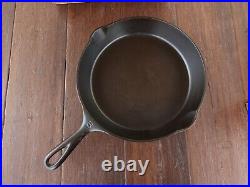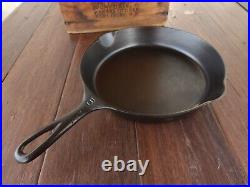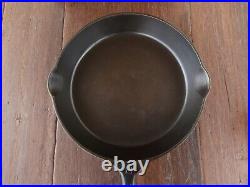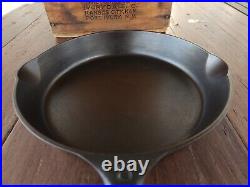 Griswold Victor #8 cast iron skillet with heat ring. It measures 10 1/2 inches wide at the spouts and 1 3/4 inches deep. Weighs in at only 3 pounds 5 ounces! Sits flat on a glass surface with no wobble or spin. The exterior surface is excellent with a crisp, clear logo and lettering.
There is some very minor pitting in the center that can be seen in the photos. The interior cooking surface is nice and smooth with typical marks from age and use. Restoring vintage and antique cast iron cookware is my passion.
For me this is a labor of love. The difference between my cast iron and the others out there is the attention to detail. First, I strip it down to the bare iron with my all natural process. Then, I season each piece using a combination of beeswax and natural oils.
Seasoning takes one hour at a time in a 450 degree oven and is repeated as many times as it takes to achieve that nice glossy coating. The entire process takes about a week to complete. This is a professional restoration done right from start to finish and I would put my cast iron up against any you can find online or anywhere else.
Thank you for considering a product from Cast Iron Archaeology! Some as old as 120 plus years. And they have seen much use. They will have utensil marks and small scrapes and nicks.
We try to point out any significant abnormalities or damage in our listings. When it is stated that the skillet is flat, it means that there is no bow, wobble or spin. It is very rare that a vintage cast iron skillet will have absolutely no movement on a glass surface. Most were not perfect coming out of the foundry.
There will likely be some small amount of movement on a flat surface. If the skillet is absolutely perfect I will definitely point that out.