GRISWOLD VINTAGE SKILLET SET with MATCHING SMALL LOGO & EARLY HANDLE (Ex. Cond.)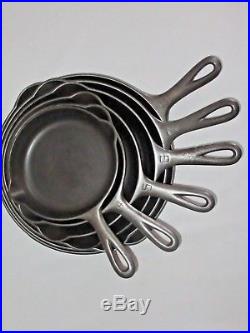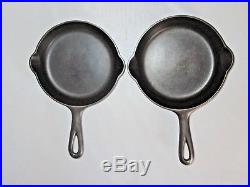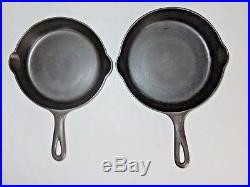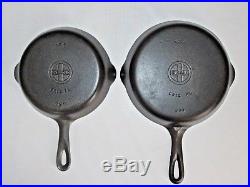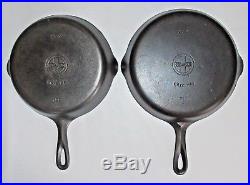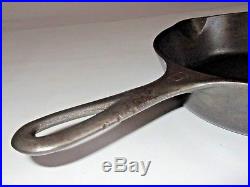 GRISWOLD VINTAGE MATCHING SKILLET SET IN EXCELLENT CONDITION --- PERFECTLY FLAT AND SMOOTH, SEASONED, "SPOTLESS" CLEAN, READY TO USE AND MAKES A STRIKING DISPLAY. SIZE: Matching Set --- No. S 3, 4, 5, 6, 7 & 8. Evenly Graduated in Size from GRISWOLD's Small #3 Skillet Measuring 6-1/2" Across the Rim Up to Their Most Popular Large #8 Skillet Measuring 10-1/2" Across the Rim. STYLE: All Skillets have a Smooth Bottom, Matching GRISWOLD Small Block Logo and Early Handle with the Pointed Teardrop Cutout for Hanging if Desired. Of Note, GRISWOLD Did Not Manufacture the #4 Skillet in this Style so it is the Single Exception Featuring the Same Matching Pointed Tear Drop Cutout Style Handle of the Period, but with the GRISWOLD Large Block Logo. PATTERN NUMBER (PN): 3 Digit PN Incised on Bottom of Each Skillet --- #3 PN 709, #4 PN 702-A, #5 PN 724-F, #6 PN 699, #7 PN 701-F, #8 PN 704-C.
MARKED: Top of Skillet Handles Incised with Respective "Size Numbers 3 through 8". As Noted the #4 Skillet is an Exception as it Was Not Manufactured in this Style and Instead Features the Large Block Griswold Logo. Also of Interest, as Shown in the last Photo the #6 Skillet Probably Belonged to a Chef as its Handle has a Row of 3 Notches to 1 Side in order to Distinguish it from those of Other Chefs in the Restaurant Kitchen. CONDITION: Excellent --- No Breaks, Chips, Cracks, Pitting, Rust or Warping with Every Skillet Sitting Perfectly Flat on the Stove, in the Oven and on Any Flat Surface with No Wobble or Spin Whatsoever.
The Cooking Surface of Each Skillet is Flat and Smooth with Some Reflecting Like a Mirror and Even Showing their Original Milling Marks. The Highest Grade Iron Ore from the Period was Used When these Skillets were Cast. The Skillets Show Normal Wear with Nothing Negative that Affects Cooking in Any Way and they Show those Typical Casting Nuances found in Period Cast Iron Cookware which Serve to Make Every Piece Unique. All the Skillets are "Spotless" Clean, Seasoned, Ready for Used and Make a Striking Display. The item "GRISWOLD VINTAGE SKILLET SET with MATCHING SMALL LOGO & EARLY HANDLE (Ex.)" is in sale since Saturday, December 23, 2017.
This item is in the category "Collectibles\Kitchen & Home\Kitchenware\Cookware\Cast Iron". The seller is "bluegoose*" and is located in Foxboro, Massachusetts. This item can be shipped to United States.