Instant Precision 6 Quart Cast Iron Dutch Oven Red DOMC6001 NEW, Sealed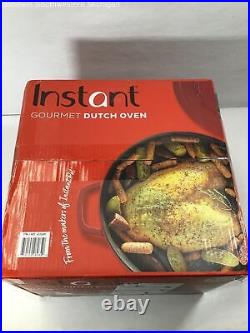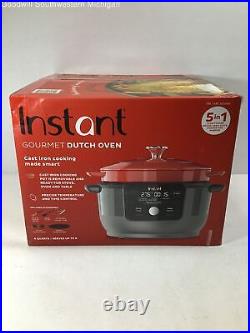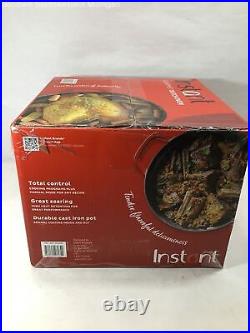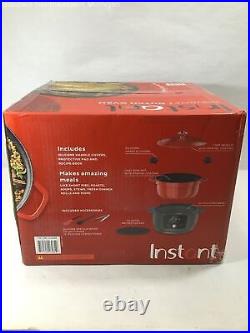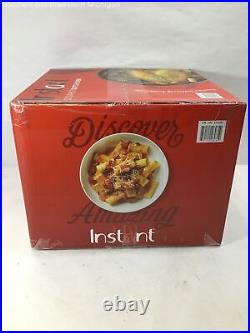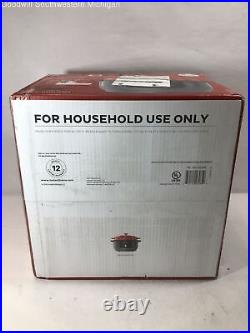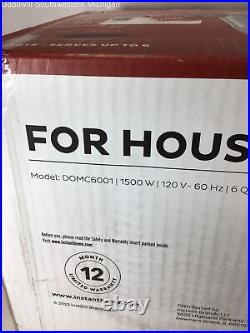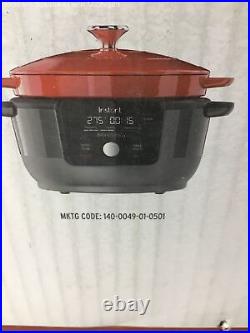 Condition: NEW, factory tape sealed; various wear to the outer product box including creases, bends to box edges and corners; stickers with pen markings, discoloration markings to the outer product box. Dimensions: 6 quart; 14.37" L x 13.32" W x 10.37 H. Material: Inner pot is enameled cast iron; Silicone; BPA/PFOA/PTFE-Free. The Instant® Precision Dutch Oven gives you precise control for braising, searing/sautéing and slow cooking, delivering gourmet results for your meals.
The heavy-duty cooking pot and lid are made from cast-iron, with a durable enamel coating for long life and beauty. The cooking pot can be removed from the cooker base, so you use it on the stovetop or in the oven, and it's beautiful on the table for serving. Silicone Spatula Spoon 12 Silicone Coated Tongs Nylon Turner Protective Silicone Pad Silicone Handle Covers Product Features. 5-in-1 functionality: braise, slow cooking, sear/sauté, cooking pan and warmer Precise results: control cooking time and temperature for professional results, easily Versatile: heavy-duty enameled cast-iron cooking pot is removable, oven and stovetop-safe and looks beautiful on your table Keep food moist: matching lid has self-braising grid on underside Cook up to 6 servings: perfect for growing families Easy to clean: dishwasher-safe cooking pot and lid Everything you need: silicone protective pad, silicone handle covers, silicone spatula spoon, nylon turner and 12 silicone-coated tongs. Materials: Inner pot is enameled cast iron 14.37" L x 13.32" W x 10.37 H; Weight 20.5 lbs Watts: 1500 Made in China.
Our customer service runs Monday - Friday (8:00-4:30) (EST).