Le Creuset Cast Iron Braiser, 5 qt, Flame-Retails $450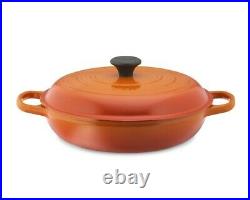 Le Creuset Enameled Cast-Iron 5 Quart Round Braiser. This updated kitchen classic enhances the cooking process by evenly distributing heat and locking in the optimal amount of moisture. With ergonomic handles and an advanced interior enamel that resists chipping and cleans easily, Le Creuset's braisers blend the best of the past with the latest innovations in comfort and functionality. Most braising recipes call for searing the meats or vegetables at a high temperature, then finishing covered on lower heat, creating a natural gravy. Colorful, long-lasting exterior enamel resists chipping and cracking; interior enamel is engineered to resist staining and dulling.
Sand-colored interior enamel makes it easy to monitor food as it cooks, preventing burning and sticking. Oversized handles provide even weight distribution and a secure grip. Ergonomic composite knobs are heat resistant to 350 F. Built-in lid stabilizers provide a secure, no-slide fit. The lightest weight per quart of any premium cast iron cookware available.
Braising uses both wet and dry heats to break down tough cuts of meat and tenderize fresh vegetables. Each piece from our extensive range of high-quality enameled cast iron cookware is designed for ease and versatility of use, fitting in with all styles of cooking, all types of cooking appliances and any style of kitchen or dining decor.
Please read this section before using your cookware for the first time. The information it contains will help you achieve the best possible cooking results.
Enameled cast iron is a remarkable and robust material that performs well with modern requirements for food preparation and cooking. Whether you choose to stir-fry, slow-cook a casserole, sear a steak or bake a cake, there is a shape that is suitable. Cast iron performs well for either slow cooking or high-temperature searing. Cast iron can be used reliably on any heat source, including induction, and with any oven or grill. It has the ability to retain heat efficiently, which allows for use of lower heat settings in stovetop and oven cooking.
On the table, a hot covered dish will keep food hot for second servings. Cast iron can also be used to keep foods cold. A chilled dish becomes an ideal cold food server on a hot summer day.
It can also be placed in the freezer for food storage or advanced food preparation. High heat temperatures should only be used for boiling water for vegetables or pasta, or for reducing the consistency of stocks or sauces. High heats should never be used to preheat a pan before lowering the heat for cooking. Cast iron retains heat so efficiently that overheating will cause food to burn or stick. The vitreous enamel surface is impermeable and therefore ideal for raw or cooked food storage, and for marinating with acidic ingredients such as wine.
Cooking tips for shallow frying and sauteing. For frying and sauteing, the fat should be hot before adding food. Bring the pan and fat or oil to the correct temperature together. Oil is hot enough when there is a gentle ripple in its surface. For butter and other fats, bubbling or foaming indicates the correct temperature. If either begins smoking, or if butter begins browning, it is too hot and should be cooled slightly before proceeding. The quickest way to do this is to remove the pan from the heat source for a few moments. For longer shallow frying a mixture of oil and butter gives excellent results. Since 1925, Le Creuset cast iron has been recognized for its strength and durability. Cast individually in sand molds, then hand-inspected by French artisans, each piece represents a rich heritage and continues a tradition of lasting, authentic design. Le Creuset is focused on inspiring and empowering people everywhere to make joy through cooking. From our original enameled cast iron cookware to stoneware, stainless, silicone and more, Le Creuset has grown to offer products across a range of materials and categories that guarantees the right tool for the right job. The enameled cast iron braiser is uniquely designed for maximum performance, transforming tough cuts of meat and hearty vegetables into tender, flavorful dishes. Food is first seared over high heat, then finished slowly in a flavorful liquid. The wide base of the braiser allows ingredients to be placed in a single layer for proper searing; once liquid is added, the domed lid continuously circulates steam to lock in moisture and flavor.
Le Creuset produced the first enameled cast iron cookware nearly a century ago, and the original foundry still operates today, where 15 skilled artisans hand-inspect each piece. This tradition of the finest culinary craftsmanship, combined with the latest innovations in comfort and functionality, make Le Creuset unsurpassed in both beauty and quality.
Colorful exterior enamel is shock-resistant to prevent chipping and cracking. Sand-colored interior enamel has a smooth finish that promotes caramelization, prevents sticking and resists stains. Dome-shaped lid locks in flavor by promoting continuous circulation of heat and moisture.
Wide loop handles provide a safe and comfortable grip. Stainless steel knob is safe at any oven temperature. The item "Le Creuset Cast Iron Braiser, 5 qt, Flame-Retails $450" is in sale since Monday, January 20, 2020. This item is in the category "Collectibles\Kitchen & Home\Cookware\Other Collectible Cookware". The seller is "universal-harbor-store" and is located in Baltimore, Maryland.
This item can be shipped worldwide.
Brand: Le Creuset
Material: Cast Iron
Modified Item: Braiser
Country/Region of Manufacture: France
Color: Flame