Member's Mark 5-Piece Enamel Cast Iron Set (Assorted Colors)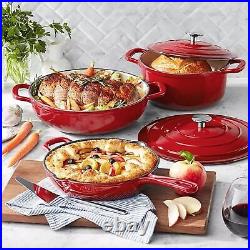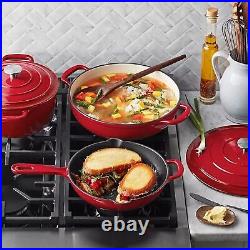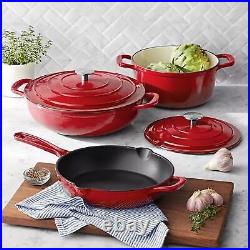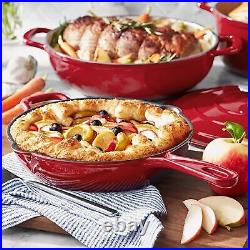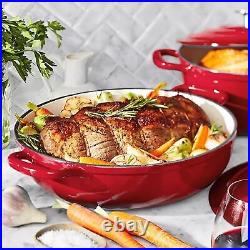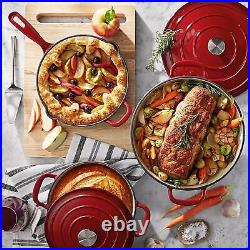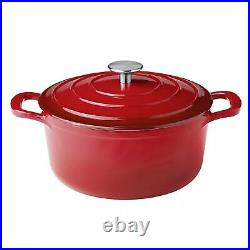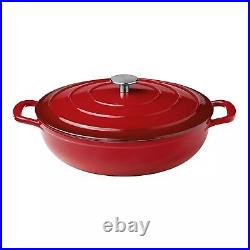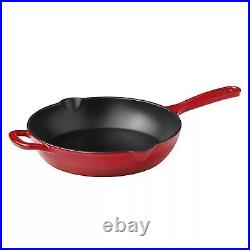 Member's Mark 5-Piece Enamel Cast Iron Set (Assorted Colors). Set includes 10 skillet, 4-quart Dutch oven with lid, and a 5-quart braiser with lid. Compatible with all cooktops, including induction; not recommended for glass cooktops. Black enamel interior coating is durable, hygienic and easy to clean. Cast iron cookware is oven safe to 464° F / 240° C.
Multi-purpose one-pot meals are so easy. Better sealing of the pot body. Interior enamel coating requires no additional seasoning, unlike standard cast-iron cookware. ALWAYS select the burner that most closely matches the size of the bottom of the pan. DO NOT use burners or heating elements that are larger than the bottom of the cookware.
DO NOT allow handles to extend over other lit burners or the edge of the range. ALWAYS use hot pads, oven mitts, or potholders while moving or removing cast iron cookware on or from the stove or oven. ALWAYS place hot pans on a heat-resistant surface such as a trivet or cooling rack.
NEVER place cast iron cookware in the microwave. ALWAYS allow hot cookware to cool to room temperature before immersing in water.
NEVER place hot cookware in water, placing hot pans in water can cause serious personal injury and damage to your cookware. Your product may chip or break if it falls onto a hard surface. You can place your item in the oven(with the exception of utensils with wooden or bakelite handles).
It is possible that knobs and handles may become unscrewed with use. You should therefore check this from time to time and retighten screws if necessary. Use silicone, plastic or wooden utensils. Metal utensils can harm your product's enamel. The Member's Mark 5-Piece Enamel Cast Iron Set is a kitchen essential. The set includes a 10 skillet, 4-quart Dutch oven with a lid and a 5-quart braiser with a lid. Thanks to the even heat distribution, the round cast iron pans are ideal for searing meat such as steak or fillet, as well as roasting potatoes. From juicy roasting to freshly baked bread, the Dutch oven and braiser are perfect for cooking a variety of dishes in a single pot.
They have long-lasting heat retention and exclusive enamel coating inside. With an easy-pour side spout, the 10 skillet makes it easy to drain excess grease and pour sauce. The heat-resistant, ergonomic cast handles, provide a comfortable grip for easy moving and serving. They are oven safe up to 464° F/240° C and compatible with all cooktops, including induction, although they are NOT recommended for glass cooktops.
Extend the life of your cookware by handwashing only. Create delicious meals with the Member's Mark 5-Piece Enamel Cast Iron Set. ALWAYS pre-heat cast iron cookware over medium heat for 2 to 3 minutes before adding oils or other liquids. NEVER LEAVE PANS UNATTENDED DURING PREHEATING.
Apply a thin, even layer of oil to the rim after drying, before cooking every time. If you accidentally drop or crack the enamel coating off, you will need to protect the area every time it gets wet. Simply rub a little vegetable oil over the cracked or chipped area. Wipe away any excess oil with a paper towel.
Length must be less than 47 inches. Length + Girth must be less than 118 inches. Girth is calculated (Widthx2)+(Heightx2). 44 pounds for the rest of world.