New Cast Iron 7.5 Quart Enamel Dutch Oven, Blue, Free Fast Shipping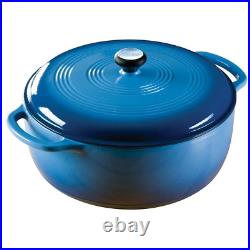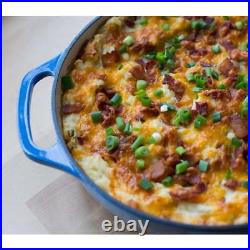 The 7.5 Quart Enameled Cast Iron Dutch Oven makes it easy to wow a crowd. Enameled cast iron can be used to broil, braise, bake, or roast in the oven up to 500 degrees Fahrenheit or to sauté, fry, or simmer on any stovetop. Plus, it can be used to marinate and refrigerate food. Enameled cast iron is built to cook and look great for generations, so you can serve memories at every meal. Since 1896, Cast Iron has been making heirloom-quality skillets, pans, dutch ovens, bakeware, and grilling gear, bringing professional chefs, home-cooks, and outdoors folk everything they need to make incredible meals.
7.5 quart enameled cast iron dutch oven in blue. Oven safe up to 500 degrees Fahrenheit. Stainless steel knob and loop handles for great control. Smooth enameled surface won't react to ingredients.
Unparalleled heat retention and even heating. Use to marinate, refrigerate, cook, and serve. Easy to clean enameled surface. Cookware that stays in the family and out of the landfill.