Vintage GRISWOLD Cast Iron SKILLET Frying Pan # 6 LARGE BLOCK LOGO Ironspoon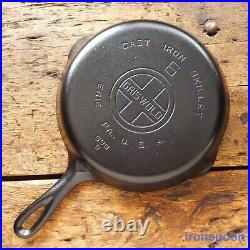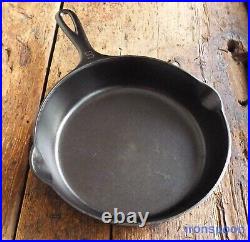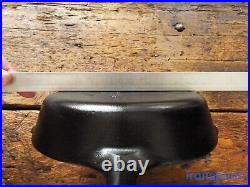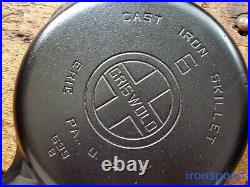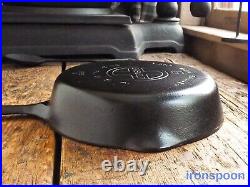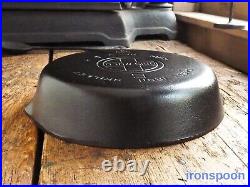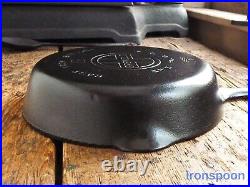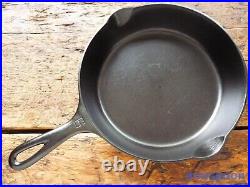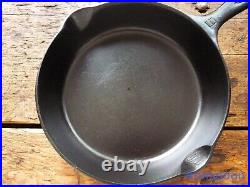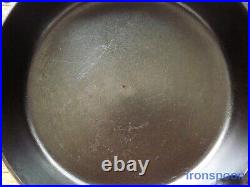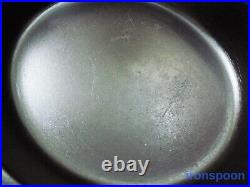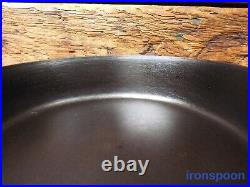 Sits flat on a ceramic glass cook-top - NO Wobble. Griswold #6 Large Logo - Block Letter.
Please see all excellent photos (don't be fooled by poor photography or "soft focus"). This pan has been professionally restored using the authentic all natural Ironspoon process. Please do not inquire how I do it - it is proprietary. 100 % free of any and all contaminants.
Re-seasoned several times, properly, and expertly, with 100% natural organic flax seed oil. Flax oil is a drying oil that hardens to a tough, solid film after a period of exposure to air.
The oil hardens through a chemical reaction in which the components cross-link (and hence, polymerize) by the action of oxygen (not through the evaporation of water or other solvents). Flax oil seasoning is extremely durable and is a very good start to the years of seasoning to come. Note: Flax oil does not "flake off" pans that are properly cleaned and seasoned. I have more than 5000 pans restored to prove it.
My pans are far better than just cleaned and slapped with coat of oil. My process is time consuming and labor intensive, and worth every penny.
You will not find a better pre-seasoned pan - period. This pan is perfectly dry - not sticky, not slimy, not oily - no black stuff wipes off. Ready again, for a lifetime of use. The interior surface is very good. The exterior surface is excellent.
Measures 9 inches in diameter, 13 3/4 inches long and 2 inches tall. (7 1/2 inch cooking surface). Own a superior, beautiful, collectible, and useful piece of American history - easy.
Don't Let this happen to you. Hi Jay I have 2 Griswold here that I bought from other sellers. Do you restore as well? Not satisfied with their finish.
Yours is definitely the best! Please see below for use and care tips and Q&A. Thanks so much for looking. Using the cooking oil of your choice, apply a thin layer to the entire pan, then wipe it ALL off. You are now ready to use the pan.
(cooking spray is good too). Wash the pan gently after each use if necessary, preferably without soap on the interior.
Dry your pan immediately and thoroughly. Always reheat the pan a little, then apply a small amount of oil to the pan, then wipe it off.
These extra, but easy steps, will lead to success with cast iron skillets. Use and care tips: First...
I love my vintage cast iron frying pans. I have quite a collection of Griswold pans, that I use everyday. I know what I'm doing. Tips: These "new" pans will require a bit of time to build up great seasoning.
If you need a screaming red hot pan to sear your tuna steak... Maybe pick a different pan. But don't overheat it - else the seasoning will burn off. I have one pan that I burn the heck out of if need be, but a treasured Griswold to fry my eggs. Pre-heat your pan slowly - uneven heating can warp cast iron pans.
Clean your pans with care... And they will care for you. My pans, that are seasoned well, I rarely wash.
I wipe them clean and dry with a paper towel, and hang them back up. If there is some stuck stuff, try coarse salt as an abrasive while wiping them clean. Sometimes there is more stubborn crust to remove... Put a little water in the pan and heat on high on your stove top.
Use a flat bottom wood spatula to gently remove the "stuff". Wipe dry with a paper towel, and apply a very light coat of vegetable oil. Avoid scrubbing with brillo type scrubbers at all cost. Sometimes you have to, but try to avoid dish soap... Use extra hot water instead. Do not let your pan soak in water, or allow water to soak in it for a long period of time. Immediately dry your pan thoroughly after washing. Water is the enemy - keep your pans lightly oiled. I always reheat and wipe a tiny bit of vegetable oil on the interior of my pans before hanging them back up not a lot of oil...
Just a few drops, wipe it on then wipe it off. Do not apply further flax seed oil. Seasoning is an ongoing process that builds up with use and maintenance. A lifetime of natural low-stick cooking awaits you if you do it right.
Please don't cook for your family in a pan that has been used for... Years of seasoning should be... Just wanted to write and say'Thank You So Much' for the two beautifully restored #10 Griswold pans you sent me before the holidays! I'm sure you know all the history, but Griswold Manufacturing was founded by my great, great grandfather, Matthew Griswold VII.
I'm Matthew XI, and my son carries the name as well. I gave your two pans one each to my two sons for Christmas.
I just cooked eggs on here, and you can't even tell I used it! Best from down the River, Matt Griswold. The pieces are very beautiful, and the seasoning is the best I have seen. Thanks Jay, I appreciate the signature requirement and will have it delivered to the UPS access point next door.
Biscuits n gravy, sausage n peppers, eggs slide ride out. A majority have been gifts, the others for my personal collection. Your photos are clear and concise, the subjective descriptions are always precise. And I've learned never to doubt your comments! Jay, We received the Griswold skillets on Saturday.
Both skillets a #7and #9, they were packaged extremely well. They look gorgeous just as you explained in your description. My wife and I were blown away by the way they looked. We are looking forward to cooking on them for a long time. Thank You, so much for your care and honesty and fast service. You really have a passion for Cast Iron. Thank You Again, Russel and Lana.
We are proud owners of some GRISWOLDS! Literally gasped when I took it out and handled it. The finish is truly a work of art.
The interior is smooth as glass and cooks beautifully! The pan is a true work of art. It is obvious that you put a tremendous amount of love and pride into your work. It came so quickly and the packing was even beautiful done!
I use the pan nearly daily! From pancakes to sockeye salmon, it is just perfect! I would highly recommend your pans and shop to everyone! So from the bottom of this foodie?
Have a lovely day, Vanessa. Just cooked in the Wagner today. Absolutely the best seasoning job I?
A couple of more someday so keep me in mind. Although I have an extensive collection of Griswold, I have always watched your items sell for a premium. VERY impressed with seasoned finish.
No doubt it is a timely process. Hi, I just want to let you know I'm very happy with my new pan. I cooked 8 steaks & eggplant parmigiana & everything came out great. The finish makes cleanup easy, just following your care tips.
There's nothing better than cooking with a quality piece of cookware and seeing the smile on people's face when you serving good food - Thank you. This one is for my daughter. She loves her 9 griddle. This is a good compliment to that one for eggs - john.
This is a gift and having seen it I'll be hard pressed to give it up! I couldn't be happier. This is the third such pan I've ordered from you. The first as wedding gift to my wife and we loved it so much that we started giving them as wedding gifts to family! Plus I love the idea of cooking with history. 1930s and soon a 1910 pan. How does that not make breakfast more fun! Hi, just wanted to say what a great job restoring that circa 1935 8 Griswold skillet! And the packing was fantastic!
Looking forward to doing future business! I received your pan and what a great work it is. If a person didn't know better they would believe it was brand new, not a century old.
Just love the #10 large logo griswold griddle that I just got. It's not cheap, but I pay for quality. Hi, bought a #9 off you last year - awesome skillet and awesome quality restoration!
Interested in the #4 slant logo but want I would really like is a Griswold Griddle. I grew up using my Grandfathers and would love to give one to my wife for Christmas. Any chance you have one?
Jay, I bought a #6 Griswold from you a couple of years ago. It is great and is still being used almost every day. Regarding the #9 above, I'd like to send it to my son-in-law in Arizona for Christmas. First thing I tried was a single scrambled room temp egg on low heat in ghee and the cooking surface performed like a dream.
The heat ring did make for a slightly longer preheat on my glass cooktop, but no matter. It will probably be my dedicated egg pan going forward. Thanks again and Happy New Year. I have never had a cast iron skillet that performed this well. It often behaves like a non-stick, even with eggs.
Thanks again for making such items available! DO I need to season the pan before I use it (I think you said you had seasoned it, but I'm not sure). I have seasoned this pan 5 times with flax seed oil. It is my experience that this is enough pre-seasoning. Do I need to cook something special in the pan the first few times(maybe fry bacon a few times before I try anything else). Feel free to wash the pan with soap first, no problem, flax oil will not wash off. When I use the pan, just use water, no soap? Water and maybe a plastic scraper if needed, then dry very well, maybe put the pan on a burner to be sure it is dry. Then rub some flax seed oil or Crisco oil or some kind of oil on it, just a little bit of oil? No doubt, depending on what you cook, there will be some stuck on stuff.
I use a flat bottom wood spatula to gently remove the stuck on stuff, with hot water, I'm sure plastic is ok... You can put it back on the stovetop for really baked on stuff.
Never let the pan soak for a long period of time in water. Sometimes I put my pans back on the burner to dry them thoroughly, then rub a few drops of any type of vegetable oil on the interior. Do not use flax seed oil.
Once a pan has been used, flax oil is no longer appropriate. Never use high heat on this stove when cooking, burner should be a medium at the highest? The flax seed oil seasoning is very durable, and can take a good deal of heat. When preheating the pan, when it starts to smoke, that's about as hot as you want to get it. If you overheat it the seasoning will burn off. So, I'd say Medium High is a pretty good rule. Now when I makes eggs or hamburgers or fry ham, do I need to put some oil in the pan before I use it? When I fry my eggs, I always put some oil in the pan (I use olive oil almost exclusively), but I always put a small amount of butter in the pan as well... For some reason, butter seems to be key to stick free fried eggs...
I'm not sure why? Probably margarine would work as well. If I just use oil, my eggs are more likely to stick. Never make tomato sauce (spaghetti sauce or chili) in the cast iron skillet it will ruin the seasoning, correct? I never use my cast iron to cook acidic food...
Of course that is a rule I had before I started using flax seed oil for seasoning. I have a feeling the flax seed oil seasoned pan would do much better with acid than one that was not seasoned with flax oil... So, If you want you could try it, I don't think it would hurt the pan. But I don't do it.
Is there anything else I should know before I use my new pan? Also, do you have any idea about how old this pan is? Is it from 1920 era or maybe 1940's? Or maybe you have no idea, just asking.
If you follow my cleaning hints, and don't overheat the pan, you will love it for the rest of your life! The Large Block Logo pans, without a heat ring, were made in the 1930's. Sometimes I have trouble with scrambling eggs in the #8 - I always scramble three eggs. Please remember that while cast iron pans can be low stick (depending on what you are cooking), they are not non-stick pans.
With gentle cleaning and always keeping them lightly oiled your results should improve over time. Scrambled eggs is a very tough test. I use mine for fried eggs, and find a little butter is the key to them not sticking.
I do use my #5 for 2-3 scrambled eggs. This pan has a glass smooth cooking surface. I oil the interior of the pan and then use a fair amount of butter. I try not to move the eggs too much... Just enough, and my results are very good.
Cast iron pans are not for everyone, as they do require special care. I have a question pertaining to after you cook in the pan, mainly what kind of towel or paper towel are you using to apply oil and wipe out excess oil? Once I cook, I then use a wood scrapper for any tough bits, but then I use a paper towel to wipe out everything, then I heat the pan up slightly, apply a small amount of Olive Oil, spread it all around, continue to let it heat thoroughly, then turn off heat and wipe out excess oil with paper towel and let the pan cool.
I use Walmart brand paper towels. Everybody has a little different way of cleaning the pans. Sometimes, like when I fry my eggs, there is nothing stuck to the pan, and I just wipe it out with a paper towel, and I don't have any problem with lint. If there is some stuck stuff, I wipe all the grease out of the pan with a paper towel and I wash it.
I use hot water, with no soap on the interior. Most of the time i just use my fingers, but sometimes a non abrasive scrubber or wood spatula very lightly. I often use soap on the exterior of the pans but rinse it off and don't get any on the interior. Then I dry it with more paper towels.
Then I heat it up a little to make sure its 100% dry, then I oil it lightly with another paper towel.... Or maybe a paper napkin. That should keep your pans in very nice condition. Of course there will be changes in the appearance as it becomes used, so it wont stay looking brand new, but seasoning will slowly build up over the years, and it will become more and more non stick.
Hope that helps - Jay.